Trying to find the perfect stocking stuffers can turn you into a grinch, or worse yet: a zombie making endless loops around the mall. But, holiday festivities are supposed to be enjoyable, right? If you're on the hunt for a present that's special and original to tuck into your loved ones' stockings, you've come to the right place. We've found even more stocking stuffer ideas to help you have fun stuffing those bad boys.
Got a beauty or makeup addict on your Christmas gift list? You can never go wrong with a gift that will definitely be used. This little pouch contains everything and anything your girlfriend needs in a pinch. Breath freshener? Check. Hair elastics? Check. Minimergency Kit even has stuff you wouldn't think of, like spare earring backs. Perfect for a gal or friend who always seems to have an entire medicine cabinet in tow.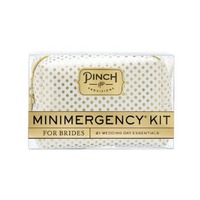 Baby, it's cold outside. Which is no reason to wear boring cold-weather accessories. This hat shields your noggin' from the cold and looks awesome, too. In the dead of knight, even the strongest chill and blizzard winds are no match for its face guard.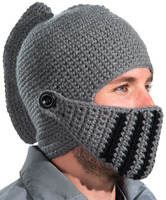 Is shower space at a real premium in your household? Clear the tub floor of shampoo bottles by hanging 'em up on the Shower Squid, a clever solution when shower shelf space is limited. Use the tentacles at your disposal to hold all of your products and bottles. Its recipient will love this little guy!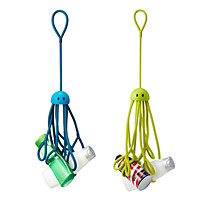 Does your spouse or friend tote around more keys than your landlord? This organizer helps to eliminate that clunky, cluttered mass of keys. It simple-looking–a real minimalist's dream. Keep your keys in check this holiday season!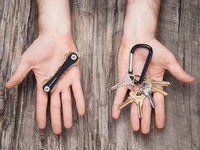 Gadgets like computers and iPads might not exist in Game of Thrones' world. But what they it did? Game of Phones is a new card game. It's sort of like the lovechild of a scavenger hunt and a Game of Thrones-themed trivia night.

Open-Sesame-Password-Reminder-Book/ Sure, complex passwords are more secure, but they're also harder to remember! There are so many logins these days, it's impossible to memorize them all. This book is a great solution. Just be sure to keep it somewhere safe–it's for your eyes only!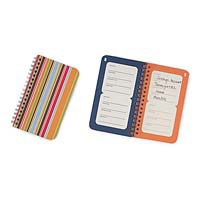 Nothing taints holiday cheer quite like a bike-automobile collision. Magnetic bike lights are a great gift for the biker you know. It's a safety precaution and practical gadget, all rolled in one! The vivid, flashy lights may prompt numerous questions and remarks from onlookers – which, depending on your personality, could be a disadvantage or a selling point.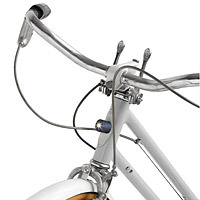 What a unique gift for a bookworm or literature lover! A stylish scarf with quotes from classic novels, this accessory makes it easy to get all wrapped up in text from your favorite classic. It's like Cliff's Notes for your neck.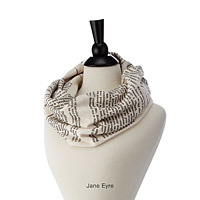 As advanced and capable as new smartphones are, battery life remains an issue if you're partial to surfing the web and using power-zapping apps. Sure, it's a first-world problem, but you'd be hard-pressed to find a stocking stuffer that ends hunger, or negotiates peace in the Middle East.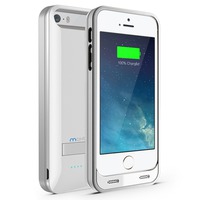 The hinges on this tablet stand allow you to use your tablet or kindle in less traditional orientations. It's perfect for the person who loves reading and working in bed. Let's face it: tablets are light and easy to carry around, but every now and then, your hands need a break. The stand is great if you're plagued with pins and needles in odd parts of your body. So practical!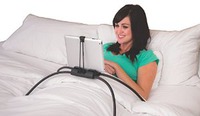 Unlike many women who need a small suitcase for their toiletries, most men are content using just a few products–especially when they travel. This leather dopp kit will help your man stow all his essentials. With its soft brown leather and embroidered monogramming, this Dopp kit is as classy as it gets.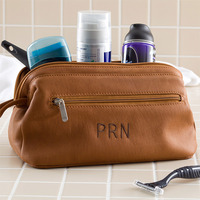 An elegant, unforgettable ring. This ring makes a perfect stocking stuffer for that special person in your life. When its recipient dons this ring, she'll remember the wonderful holiday memories you two shared together.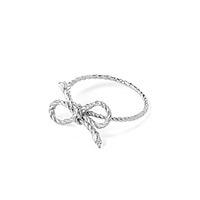 This knife looks sharp and it's like storing a whole tool box in your back pocket. As a gift, it's basically a trifecta: a multi tool, an emergency survival kit, and a cool item all-around. The streamlined design looks pretty sleek, and the option to monogram this knife makes it an excellent stocking stuffer for the outdoorsman in your life.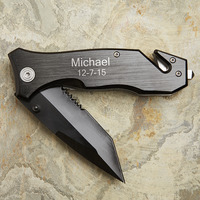 Question: If April showers bring May flowers, what do May flowers bring? Pilgrims, duh! Or–Birth Month Flower Earrings. These delicate gems make one pretty and personalized gift. Wear the natural beauty of mother nature. Plant a pair in a friend or family member's stocking this Christmas!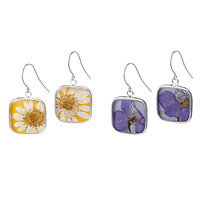 Your classy friend or partner deserves a classy-ass gift. A pocket watch is basically the most elegant gift a man can receive, and bibliophiles enjoy a good allusion to O. Henry. It's masculine, it's retro, it's so much cooler than an Apple watch. The engraving makes this particular watch an especially thoughtful choice.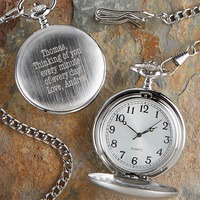 Gift your guy something he can never have enough of — clean boxers! Safe to say, these boxers are probably the fiercest pair we've ever laid eyes on. Personalize them with your partner's name and ta-da! A fun and flirty stocking stuffer.
At first glance this gift seems like a plain ol' candle. But there is more to them. A surprise is revealed as these candles burn. As a gift, they are full of mysterious charm and make an illuminating stocking stuffer.

Ninjas: they get gas once in awhile, just like us. Without a doubt, this tee is the highest quality fart shirt on the market. Though it doesn't make sound effects, it is most definitely silent but deadly. Sort of like carbon monoxide. Have a laugh by gifting this shirt for the holidays.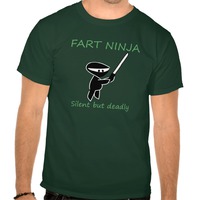 Gummy and candy lovers will be blown away when they find this sweet creepy-crawler in their Christmas stocking! It's advisable not to consume this sugary worm in one sitting, but you do what you think is right.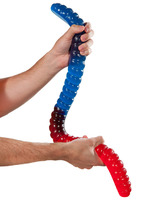 Maybe you and your partner are looking to spice things up in the bedroom, or maybe you just need a last-minute gift for someone special. Either way, this sexy stocking stuffer is for you. Let's Get Naked is full of ideas and games to help you and your lover connect. Never again will you have a headache tonight!

Other Suggestions from uGiftIdeas:
No one likes having their hands full. Meet the Quadropod Clamp: a mount that grips your smartphone or tablet. It's physically flexible, so the Quadrapod can morph into a plethora of forms and configurations. Basically, it's good at holding things!
Sometimes the best gift is a little self-indulgence. Spa packages are great because it's something everyone loves, but doesn't like splurge on. Different massages, facials, and other luxurious treatments are available. Help someone replenish for the holidays with an amazing spa treat.
Jewelry is a pretty classic holiday gift, but the necklace or bracelet you give need not be traditional. This gold Aspen necklace is chic and flattering. It's a great piece to show off on a special occasion, but also works well for everyday wear. Any jewelry lover or tree hugger will appreciate it, that's for sure.