Gift shopping for people who are rich and/or wealthy can be a real pain. It's not so much that they're hard to buy for. It's just a challenge to surprise someone with a clever gift when they already have it all! To help you out with this conundrum, we've compiled a list of unique gift ideas that are a little off the beaten path. Know a man who'd love a race car experience? How about a custom artwork? Check out these 30 gifts for guys who have everything next time you need to shop for the one-percenter in your life.
Know an outdoorsy guy? Get his adrenaline pumping. Send him on an adventure he'll never forget! He'll thank you for giving him freedom from the confines of his 9-to-5 office job. There are many, many different adventures to choose from, including rock climbing, biking tours, and ski trips.

Even the most organized people misplace their keys on occasion. Now you can track 'em down without too much difficulty. Neat freaks and chronic key-losing men alike will appreciate Bluetooth Tracking Tags. The tags will provide your man with much-needed relief next time his car keys are MIA. No more digging through pants pockets. No more hotwiring cars. Unlock the possibilities!
Dudes who dig abstract expressionist artwork will also dig this gift, a personalized canvas that depicts his own voice, or the sound of someone he loves. It's easy: go to the Voice Art website to record a voice or sound. Voice Art then creates an image visualizing the sound waves created by your voice. Your friends and family could mistake your masterpiece for a Rothko–happens all the time. Makes a wonderful wedding or housewarming gift for a male friend or family member.

The Wishing Ball is a tangible place to store your wildest wishes. Think of it like a piggybank of sorts, where you store hopes and great ideas in lieu of pennies. An excellent gift for a dude who's ready to embark on a new journey, or a forty-five year old who's overcoming a midlife crisis. Jot down a note, roll it up, and put it in the wishing ball for safe-keeping.
Remind him what happened on the day he was born. These plaques provide a glimpse of history, and it's fun to discover the events and milestones that occurred on your special day. It's a great keepsake, for birthdays, Father's Day, anniversaries, and everything in between.

Betcha TSA wouldn't find this nifty gadget! (Don't tell them we said that) This flat, palm-sized folding knife is a pretty sweet piece of gear. You never know when you'll need a knife in a pinch, and this little one fits or slips in anywhere!

It's tough when you're separated from a beloved pet or family member. Hook a friend up with a custom-made stuffed animal or human. Make one in the image of your pooch if you can't find a plush toy that resembles your dog. Make one of a father who travels often, or is deployed far away. Great for little kids who want to bring a mini-Dad or a mini-Fluffy to summer camp or a sleepover. A sentimental, extra-personalized gift!

That burger really does have your name written all over it. This branding iron is perfect for the BBQ master griller in your life. You can customize the iron with the recipient's Initials in the center, too. There's no better way to put some finishing touches on your steaks and grilled meats. Feel the burn?

Personalized Growlers: they're perfect for carrying and keeping craft beers. Not to mention they're refillable–let's be good to mother earth! Personalize one for your brother, your cousin, or any person who is passionate about their IPAs. Drink up.

Make someone feel like a secret agent man, or a government spy gone rogue! A great gift for a tech or gadget lover. Note: if you live in the Washington, D.C. area we highly recommend that you do not fly this near any government buildings. Don't say we didn't warn you.

Treat that adventuresome man you know and love to a whitewater rafting trip. It's like a roller coaster, but in the river. And it's not something he'd normally do, either. Experienced guides navigate you through big, playful rapids and the scenery can't be beat. A rafting tour like this one provides enough thrills for any adrenaline junkie or outdoor enthusiast.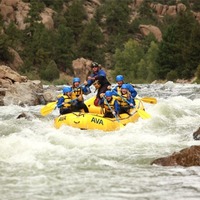 Though it doubles as a cocktail table, the Arcade Classics machine is more like a time traveling vehicle that'll take 80s and 90s kids back to their childhood. Donkey Kong, Ms. Pac-Man…all your favorites. A super cool, old school, gift. Definitely for someone special. Mind warp your way back to days of arcades and Super Mario Bros.

Bring cooperstown to any wall in your home. The Baseball Bat Wall Art features technical drawings of old patent diagrams, and they're perfect for history buffs and baseball fans alike. Spruce up your man's bedroom, or desk area, or hallway. What a cool piece of decor.

Having nice taste in candles might not seem very important — but when you enter someone's home who does, you know it right away. Come wintertime, how nice would it be to feel like you're gathering around a toasty fire? Smell the burnt wood, smoke, and soil. Lighting this candle has been known to set off cravings for s'mores. Bring some woodsy vibes indoors.

Stop watering down that brown liquor! Whiskey stones are an innovative way to chill your drink. A great gift option for the bourbon connoisseur. Keep that expensive scotch cool without diluting its flavor. These rocks will be appreciated by people who like to savor their sipping experience.

Give your brain a break with these puzzles! Keep 'em on your desk and they'll be there when you're tackling writer's block, or frustrated by that huge spreadsheet you need to get done. Great Minds has designed these brain exercises with your psyche in mind, and each puzzle correlates with a great thinker or scientist. These teasers are at once engaging, intellectually demanding, and lots of fun. Got cerebral stimulation?
These days, there's a subscription club for anything you can imagine! If you have to wear socks, why not make them fun? A 'Daring and Bold' Socks Subscription makes a great gift for your daring and bold guy. Your dad, son, BFF, or husband will receive two pairs of unique and colorful socks each month. It's a real treat for their feet.

If you experience jet lag, or have a real hankering to get the shut eye you need, look no further. This sleep sounds machine will help you get the quality sleep you need. Give a guy the gift of beauty rest!

Let's get one thing straight. This is not your grandfather's bathtub gin. This do-it-yourself gin distilling kit is serious stuff. The kit includes all the glassware, equipment, and botanicals needed to create flavorful homemade gin. Can you smell the juniper?

This sweater is just dripping with holiday-themed knick-knacks! Kind of like your grandma's house. A sweater like this is perfect for that ugly sweater office party you're sure to attend. Not to mention that the snowman looks like he's about to slay Santa's reindeer.

You know those episodes of Law & Order where the detectives find a wad of the perp's chewing gum on the sidewalk? Well, that sounds gross, but there's something cooler you can do with your DNA: make a masterpiece! DNA Art portraits are printed on canvas and make excellent housewarming or wedding gift. Even the guy who has it all lacks–or is likely to lack–an artwork depicting his or your DNA. Truly unique. A one-of-a-kind gift. Literally!
Trash those beeping alarm clock nightmares and adorn your night table with the Rise & Shine Wake Up and Color Changing Light. If you can't be outdoors 24/7, this light is awesome. It brightens in the morning–like the rising sun would–so you'll wake up and hit the hay as if you were in nature. Relax. Get your lifestyle in sync with the Earth!

Don't let the chilly weather stop you from playing Kandy Krush. These gloves are great gifts that will keep your hands warm and allow you to play with your smartphone indefinitely. A winter essential for techies and the like.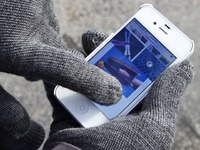 Other suggestions from uGiftIdeas:
"Hold my beer for a second?" is a question you won't be asking so long as you wear this sweatshirt. This comfy hoodie features a pouch that enables you to engage in hands-free drink and brewski toting. It's soft, it's cozy, and most importantly, it grants full and immediate access to what matters most: your beer! We encourage you to embrace the marsupial look.
Be a tourist in your own city! With these food tours you can combine the best of both worlds: eating and seeing someplace new! The man who receives this gift gets to indulge, sample, and taste his way through whichever American city you choose! Get to know a new city–or a familiar one–through its local specialties and dishes. The world's a little cooler when you get a little backstory. Mmm, delicious!
Your smartphone is awesome, but without a doubt it is also covered in germs. Contact with filthy hands and a filthy world makes your phone a breeding ground for bacteria and viruses. Grossed out? Good thing we have the Phonesoap UV Smartphone Sanitizer around to make everything clean again. It's easy: just place your iPhone in the case and wait in four minutes' time the UV rays will have done their disinfecting magic. To be clear, this case removes germs. It cannot remove those dick pics or sexts you've been sending–you have to do that on your own time, okay?
Know a dude who'd love to play race car driver for a day? Now you can make it happen! Make your man's day when you give him the gift of driving an exotic car for a day! Race a Lamborghini is a sweet gift experience that car aficionados will go ga-ga for. Gotta say, those Italian cars are pretty fly.
The-Executive-Decision-Maker-Magic-8-Ball-Style-Dartboards/ It's how Steve Jobs made decisions at Apple. Wear hear Disney's Bob Iger has one in his office, too. "The Executive Decision Maker" dartboard was created to combat indecision. The dartboard makes for a hilarious corner office accessory. Help the Big Wig call the shots.
You (or your man) can capture that perfect shot with these glasses. Throw back some shots of your favorite whiskey or espresso in these picture-perfect shot glasses. Designed to look like a miniature camera zoom lens, these will surely be adored by any photography enthusiast. As the Black Eyed Peas once said "I don't want to take no pictures I just want to take some shots."
Quite unlike slaves, this muscle tee is something you can feel proud to own. The origins of this shirt are unknown, but rumor has it that Frederick Douglass had these made for Lincoln's 1868 re-election bid. Too bad John Wilkes Booth ruined everything before the Abolish Sleevery tees could really catch on in the Union states.